Why Hire a Corporate Magician?
Why hire a corporate magician? There are many ways a magician specializing in the corporate market can help you business. Some of those include:
• Marketing your products
• Building brand awareness
• Entertaining key account decision-makers
• Motivating sales people
• Driving traffic to a trade show booth
• Emotionally involving your prospects, clients or employees

Most times a corporate magician is either performing close-up or stage magic. Close-up magic, also called strolling magic, is presented while the magician is walking around and performing, and many times surrounded. Stage magic is typically performed on a platform or stage while the audience is seated. Normally magic shows last between thirty to ninety minutes.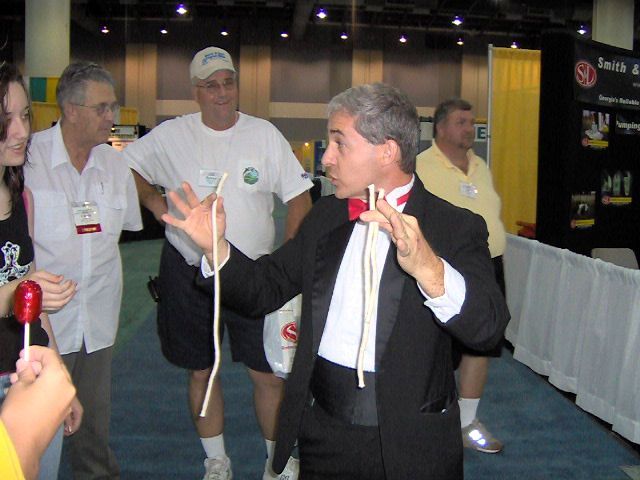 A corporate magician may perform at:
Trade Shows
The third highest traffic draw for a trade show booth is a magician. The first and second include celebrities and models (it's hard to compete with a TV star or the Playboy Bunny of the Year). Magicians can customize their magic and/or presentations to deliver the marketing messages needed. Once the magician has drawn a crowd and finished his presentation at the booth, the salespeople will take over and qualify the prospects. In addition, many magicians will also work hospitality suites to entertain key account decision-makers.
Sales Meetings
Corporate magicians are often hired to entertain during sales meetings. Many sales managers will introduce new products, or the engineering/technical department will highlight new product specifications to the sales department. Either way, a magic presentation is a great way to reinforce the message.
Company Picnics
The annual company picnic is an ideal setting for a corporate magician. Most companies have a need for entertainment at these events, and a magic show is both fun and entertaining.
Holiday Parties
A company's holiday party may be either formal or casual. Either way, a magician may be called upon to perform either close-up (during the cocktail hour) or a stage show as the main entertainment for the evening.
Special Events
This category may include awards banquets, grand openings, open houses, golf tournament hospitality tents, and much more. Using a corporate magician will make the prospect/customer experience memorable.
When choosing any entertainer to represent your company, they should reflect the image you want to portray. The following are some considerations when choosing any entertainer for your business:
Professional Appearance – A magician should stand out and look the part. Most corporate magicians will wear either a tux or a suit. A company selling razor blades would not choose to have a magician with a long Rip Van Winkle beard.
Business Background – Does the entertainer have the business experience necessary to put together a professional presentation that will engage the prospects or customers?
Specialization – You will want to choose a magician that specializes in corporate magic, not a birthday party or street entertainer.
Skill Level – When a magician specializes in corporate magic, they typically have the technical skills necessary to do the job. It takes years and years of practice to be good enough to do magic for a living.
Education – Will the entertainer be interacting with educated prospects or customers? The magician should be able to connect with those he or she is entertaining. Many corporate magicians have advanced degrees and are intelligent enough to be able to carry this out.
The main benefit in using a corporate magician is that he or she is able to engage the imagination of your intended audience. People enjoy being entertained and amused, and prospects make buying decisions based on emotion and back up their decisions with logic.
Whether your purpose is to entertain prospects or educate your employees, the art of magic can be utilized to help you realize your goals.


Atlanta Corporate Magician Jack Corcoran has been a full time professional since 1990. His background as a marketing manager in the software and high tech industries led to his specialization as a corporate magician. His client list reads as a Who's Who among the Fortune 500. It includes Microsoft, IBM, Nabisco, Lockheed, Motorola, Southern Company, Nissan, GE, and many more…


Call Today
770-867-7044