Casino Themes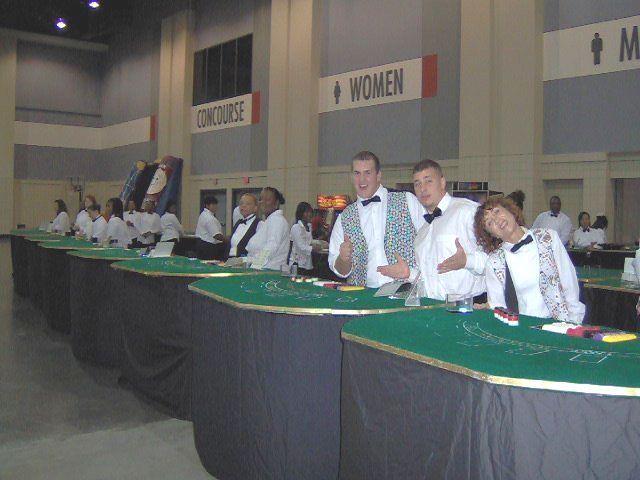 Casino Themes - Bring the excitement of a Casino Theme Party to your next event. It's a sure way to get everybody involved.
We carry all the popular games - Blackjack, Roulette, Craps, Wheels of Fortune, Chuck-A-Luck, Poker (including Texas Hold 'em), and Baccarat. In addition, we also offer video horse racing and table top horse racing. Based in metro Atlanta, we service all of Georgia, South Carolina, North Carolina, Tennessee, Alabama, and parts of Virginia, Florida, and Mississippi.
Whether it's a corporate event, fund raiser, birthday party, or any other type of special event, a themed casino party is the most interactive and fun event you can have.
No matter what game their playing, your guests will think they're in their favorite casino, winning thousands of dollars and having the time of their lives.
We offer full-service casino parties, table rentals only, and every choice in between.

Here are some of the most popular casino themes:
Mardi Gras Theme
Riverboat Gambler Theme
Disco Party Theme
Wild Wild West Theme
1920's Speakeasy Theme
Caribbean Theme
Arabian Nights Theme
Camelot Party Theme
Hollywood Stars Theme
Sci-Fi Party Theme
Roman Theme
Southern Plantation Theme
Casablanca Party Theme

When you've decided on the theme for your casino party it's time to get creative. Invitations, decorations, costumes, food, party favors, and entertainment should all fit the theme chosen. Even the play money handed out to guests should match the theme of your event.


Casino Table Pictures


Call Today 770-867-7044